"More than 50 years ago, President Lyndon B. Johnson challenged this nation to tend to the least of its citizens.  His vision outlined a Great Society, where poverty didn't exist and all citizens had equal access to economic opportunities.  Sadly, many of the dire socioeconomic conditions that plagued us 50 years ago and prompted The War on Poverty remain relevant today, including income inequality, unemployment and underemployment, housing, education, and access to community resources and political power.  It begs the question, 'Can the War on Poverty Be Won?'  If yes, then what must we do?  If no, then what are the alternatives?" -- IMPACT CEO Robert "Bo" Chilton
---
Poverty Summit
The People | The Politics | The Promise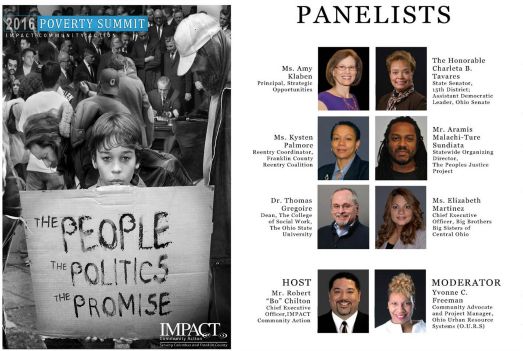 ---
In mid-September 2016, IMPACT Community Action hosted a Poverty Summit: The People, the Politics, The Promise to gauge opinions surrounding issues of poverty and to drive action plans to address those issues. 
The event featured a dynamic panel of subject matter experts:
Dr. Thomas Gregoire, Dean, The College of Social Work, The Ohio State University
Ms. Amy Klaben, Esq., Principal, Strategic Opportunities
Ms. Elizabeth Martinez, Chief Executive Officer, Big Brothers Big Sisters of Central Ohio
Ms. Kysten Palmore, Reentry Coordinator, Franklin County Reentry Coalition
Mr. Aramis Malachi-Ture Sundiata, Statewide Organizing Director Coordinator, People's Justice Project
The Honorable Charleta B. Tavares, State Senator for the 15th District and Assistant Democratic Leader in the Ohio Senate
The event was moderated by Ms. Yvonne C. (Hunnicutt) Freeman, a community advocate and Project Manager for the Ohio Urban Resource Systems (O.U.R.S.).
During that event and over the weeks since, we have engaged and polled a cross-sector of individuals from our community, all of whom have a vested interest in reducing poverty and serving the people in Franklin County.
---
Poverty Summit Recap
As we promised during the Poverty Summit, following are results from the surveys taken during the event, as prepared and analyzed by Community Research Partners.  This survey data explores the three public policy agenda (or advocacy agenda) items discussed during the Poverty Summit:  1) Safe, Affordable Housing; 2) Re-Entry/Restored Citizenship; and 3) Engaging Opportunity Youth (ages 16-24). 
Among the key findings, we learned that 62.5% of our respondents believe wages and subsidies are not keeping pace with rising rental costs, and that this condition presents the highest threat to affordable housing.  Likewise, we learned from 55% of our respondents that adequate housing (29%) and job training (26%) were among the greatest barriers to restored citizens and their successful re-entry into society.  Additionally, we learned that 71% of the respondents believe that "toxic stress," which includes strong, frequent and/or prolonged adversity, is a serious issue for our youth and young adults. 
This survey data, coupled with other information we will collect over the coming months, will drive IMPACT's Advocacy Agenda; and it will help us determine how best to allocate our resources and those we pool with other like-minded individuals and organizations to reduce poverty in Franklin County.
---
---