2018 Ripple of Hope Award Honorees
Ms. Pauline Edwards - Community Sector
Ms. Pauline Edwards is a native of Jackson, Tennessee and moved to Columbus, Ohio in 1972.  Over the years, she has served dutifully as a community advocate for several organizations, programs and causes, and has focused a great deal of her efforts in central Ohio. 
Ms. Edwards was one of the founding members of IMPACT Community Action's Board of Directors, and served two consecutive terms from 2007-2013. 
Ms. Edwards is extremely passionate and devoted to the elderly population, spending many years as an outreach worker at Gladden Community House, where she utilized her skills in gerontology to improve the lives and well-being of the elderly in the Franklinton community for many years.   Ms. Edwards served on the Franklinton Area Commission from 1988 until 2017. 
Currently, she serves on The Lower Lights Christian Health Center board, Franklinton Urban Empowerment Lab (FUEL), Westside Community Health Advisory Committee and The Mid-Ohio Regional Planning Community Advisory Committee.
Ms. Edwards earned a Bachelor of Science Degree in Health and Physical Education from Lane College, in Jackson TN, and an Associate Degree in Applied Science in Gerontology, from Columbus State Community College.
She was married to the late Mr. Paul L. Edwards for 23 years, and they have five children (one of whom is deceased).
Ms. Edwards is a long-time member of the First Church of God where she serves faithfully as a Deacon.  When she is not serving the community, Ms. Edwards enjoys reading, assembling puzzles, sewing, traveling and spending time with family and friends.  She hopes to continue using her effective leadership skills to make an impact in the lives of others and to alleviate poverty in Central Ohio.
---
Mr. Kevin Walker - Private/Non-Profit Sector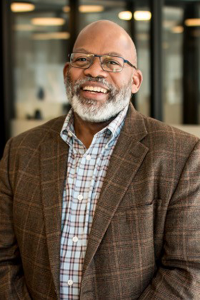 Kevin Walker is Senior Vice President of Power Supply at Southern California Edison (SCE), one of the largest electric utilities in the country. He is responsible for SCE's wholesale Energy Procurement and Management activities, operations, maintenance and commercial viability of the company's power production facilities, and for the decommissioning of the San Onofre Nuclear Generating Station.
Prior to this role, Mr. Walker worked at Ernst & Young in the power and utilities practice as a senior strategic advisor. He also is a Co-founder of TurtleWise, Inc., a virtual advice and mentoring platform.
He held the position of Chief Operating Officer of Iberdrola USA (now AvanGrid) through May of 2016 where he was responsible for providing safe, reliable and affordable power to more than 2.4 million customers throughout New York, Maine, New Hampshire and Connecticut. He has also held the position of Senior Vice President and Chief Information Officer for American Electric Power (AEP), responsible for the development and support of AEP's software applications
and the operation of AEP's information technology infrastructure across its elevenstate utility jurisdiction. Also, while at AEP, Mr. Walker was President and Chief Operating Officer for AEP Ohio, serving approximately 1.44 million customers in Ohio and the northern West Virginia panhandle. It was in this capacity that he became chair of the the IMPACT Community Action Agency Board.
Before joining AEP, Mr. Walker was Vice President, Maintenance and Construction Services, for Consolidated Edison of New York where he directed efforts to ensure the efficient delivery of maintenance and construction services throughout the Consolidated Edison service territory. He was instrumental in directing recovery of energy service following the attack on the World Trade Center on September 11, 2001. Mr. Walker spent 13 years with Consolidated Edison in various
leadership positions that included Plant Manager, Steam Operations Department Manager, and New York City public affairs liaison, during the administration of former Mayor Rudy Giuliani.
Mr. Walker served for more than six years in the U.S. Army as a field artillery officer. He did assignments in Augsburg, Germany, at Fort Bragg, NC., and a combat tour in support of Operation Desert Storm in Iraq.
Mr. Walker is a 1985 graduate of the United States Military Academy, earning a Bachelor's of Science in engineering. He also has a Master's of Business Administration from the University of Pennsylvania's Wharton School.
He is married with twin young children and currently resides in Pasadena, CA.
---
Dr. Anahi M. Ortiz - Public Sector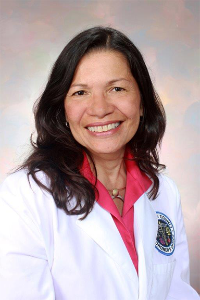 Dr. Anahi Ortiz was born in New York, New York.  She graduated from the Sophie Davis School of Biomedical Education, a six year BS/MD program, at City College of New York and received her medical degree from Downstate Medical College in Brooklyn.  She decided on pediatrics as her focus and did her residency at St. Luke's – Roosevelt Hospital in Manhattan.
After residency her career has focused on providing care to the underserved communities of New York City and eventually those in Columbus, Ohio.  Dr. Ortiz moved to the central Ohio area in 1996 where she has worked as a pediatrician in Nationwide Children's Hospital, Westside Community Health Center and North Community Counseling.  She has always been a proponent of volunteering in the community and has volunteered at Helping Hands Free Clinic as well as volunteering internationally with Timmy Global Health Care.
She was appointed to the office of Franklin County Coroner in November of 2014. Since then she has had worked towards streamlining the process for more timely production of death certificates,  professionally interpreted several  forms for families of decedents whose primary language is not English and is working on educating the medical community on the death certificate. She has highlighted cultural sensitivity as a priority of the Coroner's Office and brought in several educational sessions on cultural sensitivity for the staff.  In March of 2015 Dr. Ortiz convened the Franklin County Drug Overdose Initiative.  This group meets monthly to look at the rising rate of drug use and deaths in our county and how we can intervene.  In a short period of time several members of the group have concrete plans to create programs which will decrease the number of deaths from overdoses.  Since then she has hosted the Franklin County Opiate Crisis Summit on March of 2016 and again in 2017. She has also worked on a Community Action Plan towards the opiate crisis and launched the Franklin County Opiate Crisis Task Force August of 2016.
Dr. Ortiz is on the board of Medical Advisory Board of Lifeline of Ohio, board of National Violent Death Reporting System, and the Medical Advisory Board of YMCA Head Start. She has also spoken to numerous community groups as well as professional organizations on suicide, infant mortality and addiction/ opiate crisis.
Dr. Anahi Ortiz has almost 30 years experience in working with high risk communities in the medical field.  She brings this experience and knowledge to the office of Coroner where she will be a voice for those who die of violent means and to improve the lives of our community.
---