Re-Entry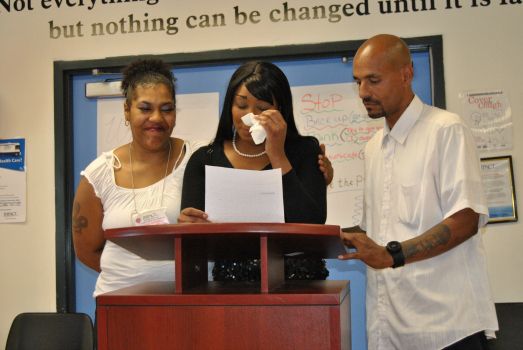 IMPACT Community Action believes in second chances.
Through our Re-Entry Work Readiness Program, we help restored citizens capitalize on their second chances by addresses the critical barriers to their successful re-entry into the community. Our program is designed to develop and strengthen core competencies pertaining to their attitude as it relates to resuming/establishing their roles with their families and communities; their aptitude as it relates to further developing and identifying their gifts and talents; and their accountability as it pertains to their financial responsibilities.
Our Re-Entry Work Readiness Program employs a holistic approach and uses tailored curricula, including Mis-Socialization of Men and Women, Love Notes: Establishing and Maintaining Healthy Relationships, and Social Skills (which is a gender-neutral adaptation of the Thinking For A Change curriculum) to help restored citizens who are within one year of release, build emotional intelligence, transferable skills and self-esteem through introspection, course work and group dynamics. 
In 2016, 94 restored citizens completed this program successfully and only 11 recidivated, for an 12% recidivism rate that surpassed the State average (27%) and the national average (44%).  Recidivism tracking sources include contact with IMPACT's program participants and self-disclosures by participants; Ohio Department of Rehabilitation and Correction (ODRC) website: Offender Search; Franklin County Clerk of Courts website, and general searches via the internet.
In the spirit of Collective IMPACT, we work in partnership with several local organizations, including Adult Parole Authority, Alvis, City of Columbus Restoration Academy, Federal Probation, Franklin County Municipal Court Adult Probation, The Franklin County Re-Entry Coalition, The T.O.U.C.H. Program, and several others, to help ensure the participants in our program receive critical skills and techniques needed to re-enter society, re-establish relationships, reduce recidivism and confront significant barriers to their self-sufficiency.
---

---
Re-Entry Work Readiness teaches critical skills and techniques to restored citizens who are within one year of release from incarceration. This paid ($200/per week) program aims to reduce recidivism and confront significant barriers to self-sufficiency by using a holistic approach and a certified curriculum geared to develop and strengthen each participant's core competencies, including attitude, aptitude and accountability.