Workforce Development/Connections Program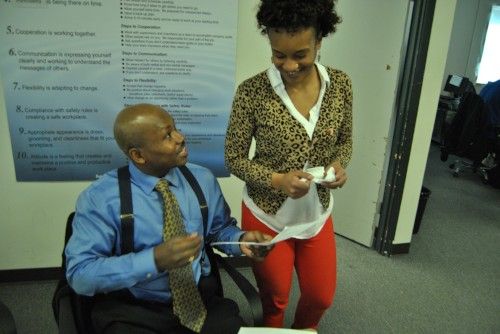 Workforce Development/CONNECTONS Program (January 2020 – December 2021) - over a two-week period, participants have opportunity to earn while they learn as they engage in a comprehensive personal and professional development training series, which consists of four tracks and focuses on the following areas: (a) trauma awareness; (b) soft skills/interpersonal skills training; (c) basic math literacy, and (d) computer literacy. As a precursor to our Vocational Training and Certifications (VTAC) Programs, the CONNECTIONS Program (paid as a $400 stipend to participants) also has work-readiness components embedded in the curriculum, which will help participants secure and maintain employment.
Keeping You Safe During Covid-19
IMPACT offers a scheduled remote learning environment with virtual interactive courses. The virtual classroom offers tools for creating discussion spaces, group configuration and using e-mails and announcements to interact more effectively with participants. We are registering NOW.  For more information email: lcole@impactca.org or call (614) 453-1659 
---
IMPACT now offers 3 new workforce development programs to expand the interests of those in Columbus and Franklin County! 
1. Medical Assistance - 
This program allows eligible Franklin County residents to receive the credentials, knowledge, and skills to become a Medical Assistant. Through an 18-week hybrid format of live virtual and in-person sessions, participants will be equipped to enter the work field. At the end of the training, participants will receive four credentials: Phlebotomy, EGK Technician, Patient-Care/Multi-Skilled Technician, and Medical Assistant. The IMPACT Healthcare program will be on an 18-week rotating schedule from March 2021 until November 2021. 
Contact: Ashlee Abraham by email at infoMA@impactca.org or phone at (614) 453-1640
How to Apply: Call our Empowerment Services line at 614-453-1640. Registrations are on a first come, first serve basis with a limited number of available seats, please register early. 
Intake Process: Scan the provided QR code or email us for an appointment with our Empowerment Services Navigator where our team will determine income eligibility and provide next steps.
Documentation Needed for Eligibility:
Valid driver's license/state issued photo I.D. for main applicant.
Certification of completion from IMPACT's 2 week soft skill program
Social Security card for every member of the household
Previous 30 days' proof of income for everyone 18 and over in the household
Examples include employment pay stubs, SSI award letter, etc.
Class Times: Monday – Friday; 9:00 AM – 4:00 PM (Breaks Included)
Program Benefits: Enrolled participants have an opportunity to receive a weekly stipend in the amount of $200 and they'll have exclusive access to supportive services to reduce barriers of self-sufficiency to support program completion.
**In person classes are held at IMPACT:  711 Southwood Avenue Columbus, OH 43207
2. Phlebotomy - 
This program provides a livable wage career opportunity through certification in the field of phlebotomy. In partnership with First Stick Phlebotomy, clients have the opportunity to earn certification and advance their career.
This is a 4-week program, which operates on a rotating schedule from March 2021 through September 30, 2021. Like the Medical Assistant program it offers an opportunity for a weekly stipend in the amount of $200.
Our focus of IMPACT Healthcare Phlebotomy is to equip future job seekers with career certification as a pathway to higher wage employment. Additionally, IMPACT will provide wrap-around services to support the families stabilize through the process of acquiring the certification and up to 90 days beyond acquisition. IMPACT Healthcare program will be on a 4-week rotating schedule from March 2021 until November 2021. 
Contact: Ashlee Abraham / infoPB@impactca.org / (614) 453-1640
3. CompTIA (Information Technology - IT) - 
The CompTIA, or IMPACT IT program is a great opportunity for eligible Franklin County residents seeking to enter the IT field. Through the partnership of IMPACT Community Action and Pyramid CDC, we are looking for 70 participants for an opportunity to complete our 16-week program; CompTIA and CompTIA A+ training and obtain two marketable designations that will help kick-start their career. Program participants upon attending all sessions, completing all assignments, and successfully passing the CompTIA and CompTIA A+ exams, participants will receive the CompTIA and CompTIA A+ designation. Additionally, the participants will receive support and guidance to kick-start their new career, receive employment with a livable wage, and obtain self-sufficiency. There's also an opportunity for a  $200 weekly stipend with our IT program. 
Contact: Ashlee Abraham / InfoTech@impactca.org / (614) 453-1640