A Profile of Mr. William Graves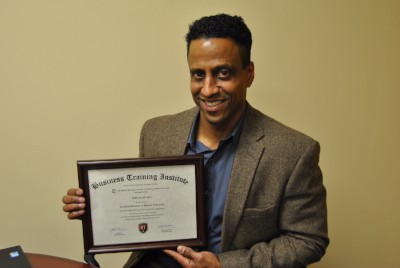 Where does the William Graves Story begin?
My story begins in Columbus, Ohio, where I was born and raised. I lost both of my parents when I was 5; and for the next 12 formative years, I lived with two (maternal) aunts, who raised me as their own child. Considering my circumstances, my life was somewhat good. We moved around a lot, so I wound up attending four different high schools (South, Marion Franklin, Hamilton Township and Independence), and ultimately obtained a G.E.D. Shortly after high school however, my life seemed to have taken a change for the worse. By hanging around with the wrong crowd, picking up bad habits and trying to fight off the demons, my life quickly went out of control and sent me on a downward spiraling path.

How did you address your life's downward spiral?
I knew I had to stop, step back and make some changes. By the power of God, I was able to reach deep down inside of myself and pull myself together; and I decided to join the Navy. I passed all of the necessary tests, but something wasn't right. I talked with some friends from my church and I was encouraged to continue my education. I enrolled in Columbus State Community College and decided to pursue a degree in business. I made the Dean's List and was an Honor Roll student. Inspired by my friends and mentors from church, I transferred to Morehouse College in Atlanta, Georgia and earned a B.A. in Financial Management. After graduation, I landed a job with Naval Sea Systems Command in Arlington, Virginia and was in pursuit of a successful career. Employed and pursuing a Master's degree part time, I had a promising career and was on track to achieving my goals.

You achieved success and had a promising future. What happened next?
Over the years, I became seriously depressed and the demons returned. Once again, my life spiraled downward and out of control but it was much faster and fiercer than the first time. After a series of bad decisions, losing my job, exhausting my finances and burning all of my bridges, I caught a case that landed me in the Arizona Department of Corrections for 11 years.
Despite the chaos, the setbacks and the mayhem, prison did not break me. Instead, I found peace and purpose. I was able to break free from the depression, conquer the demons and to clear my head. God kept me motivated to reclaim my pursuit of a successful career and a successful life.
I was paroled on Valentine's Day in 2014. All I had were the clothes on my back and just over $1,200 I earned from the jobs I had in prison. I was committed to make the most of any opportunity that came my way; but no one would give me that opportunity. So I turned to Craig's List to advertise my services as a general laborer (yard work, moving jobs, odd jobs, etc.). I did this for roughly four months before deciding to move back to Columbus.

What led you to IMPACT Community Action?
When I moved back to Columbus, a friend told me about IMPACT's Re-Entry Program and I decided to give it a try. I was enrolled in Re-Entry Class #39 and it was one of the best decisions I've made. The program instructors were very knowledgeable and passionate about their work. I was in a class with others, who, like me, were looking to make the most of a second chance opportunity. Through this program we learned to draw from our individual life experiences to help us embrace our potential, reconnect with our families and friends, and to prepare for a successful future.
After the Re-Entry Program, I was enrolled in IMPACT's Employment Plus Class #71. This program taught me job skills and interviewing techniques, instilled a new level of confidence within me, inspired and motivated me, and pushed me to expand and grow. While in the Employment Plus Program I applied to Restoration Academy, a program started by then-Mayor Michael B. Coleman to assist restored citizens with job training and internships. Little did I know that two of the instructors from IMPACT had already recommended me for this program. Restoration Academy was such a great learning experience and such a great opportunity, which led me back to IMPACT as an intern in its Human Resources Department.
I wanted to make the most of this six-month internship with IMPACT. I wanted to build my skills, prove myself and eventually find permanent work. HR is fast-paced, challenging and interesting. Committed and focused, I pursued a Certification in Human Resources, which I earned from the Business Training Institute in August 2015. But God wasn't through with me yet. Later that year, IMPACT hired me full time as a Human Resources Assistant.

What's next for William Graves?
I am so grateful to God for covering me during my 11 years of incarceration and for directing my friend to tell me about IMPACT and its Re-Entry Program, which started me down this new path. I am still expanding and pushing forward, still setting goals and dreaming; and I am committed to making it all a reality. Along the way, I like to share my story and gratitude with the hopes of motivating and helping as many people as possible. I have spoken to graduates of IMPACT's Re-Entry and Employment Plus classes. I encourage them to not let their past or anyone prevent them from setting goals and having dreams (big dreams) and making them a reality. I believe in hard work and the benefits of hard work. I remind them that there will be obstacles and times of doubt; but to push through and overcome. I remind them "but with God, all things are possible …"