A Profile of Mr. John Jackson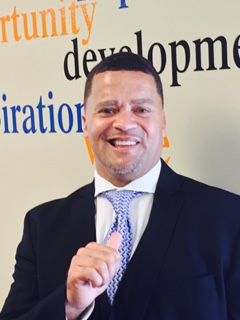 Q. Who is John Jackson?
A. I am the president and founder of Top Competitions USA, which is a faith-based, traveling, competitive cheerleading and dance team company that celebrates today's youth for their leadership and athletic ability. I'm also a full-time employee of Eddie Bauer and a sober friend of God for the rest of my life.

Q. What is John Jackson's Story?
A. I came to IMPACT Community Action looking for purpose and direction. During my addiction I had purposely blown every opportunity that I'd had. Now that I was sober, I had very little hope of recapturing my dreams because I believed that I had run out of chances to own my own business. While attending classes at IMPACT, I met Sue Petersen, the Chief Financial Officer at IMPACT. I shared my dreams with her and she directed me to the Financial Services Department. Through an opportunity provided by IMPACT, in partnership with JPMorgan Chase Bank, I was able to secure an Individual Development Account (IDA) that helped me start my own business!

Q. What was your turning point in your life?
A. Following my completion of IMPACT's Re-Entry Work Readiness Program and its Employment Plus Program, I landed a job and was very excited! I invested $1,000 of my own money into the IDA Program and earned $3,000 at a 3:1 match ratio towards my business! Creating my company's webpage and having a presence on social media was just like finding your first telephone number in the phone book and realize, "I am somebody!" With these dollars I acquired marketing materials, designed my logo, acquired my business name, became licensed and purchased my vendor's registration.

Q. What does this opportunity mean to you?
A. This opportunity means everything to me! I thought about my dream in the midst of my nightmare. My addiction started at an early age and cheering gave me a platform of self-expression to rid myself of anger, pain and fear. No matter what was going on in my life, in order for me to compete at a high level, I had to remain focused, maintain academics, and exercise discipline and physical strength.
I was afforded the opportunity to work as an instructor for the Universal Cheerleader Association (UCA) which is the nation's largest cheer company. I worked with the best of the best. I taught competitive cheering techniques from the junior leagues to collegiate-level competitors, and I was very successful. I travelled across the country to the best competitions in many cities nationwide. I have been in the cheering business for 30 years; but when I look back, I especially remember going to a competition and overhearing one of the Instructors ask another instructor, "what were they going to do with the 'TD teams'?" I did not know what a "TD team" was, but everyone else did. Curious to know what it meant, I was informed that the term meant "technically difficult" and by observation it was directed towards the teams from the inner city and urban communities. I thought to myself, "they are talking about me. I came from an urban community and I was a top competitor. Why weren't these kids considered competitors?" Then it dawned on me that the inner city and urban youth would never have the opportunity to compete in an arena where passion met precision in a uniformed manner. I created TOP Competitions USA so that youth who could not afford the expense of cheering and competition would have the opportunity to compete locally at a high quality competition.

Q. How has TOP Competition USA been received?
A. TOP Competition USA has been received greatly! We have competitions scheduled to take place in Columbus and Cincinnati by the end of the year and are looking forward to expansion in 2016. The Chase IDA Program dollars helped establish the foundation for TOP Competitions USA, and I set three goals for my business. The first goal was to establish a local competition. The second goal was to build on our momentum and develop events state wide. My third goal is to create national competitions. I could never have dreamt this big without IMPACT and Chase.

Q. How has the Promise of Community Action served you?
A. These programs changed my life! When I came into IMPACT, I was hopeless but I found hope. I thought I lost hope but it was just misplaced in my addiction. I know it may sound silly and a little cliché; but through this process I have learned to chase what matters. Top Competitions USA Cheer and Dance Competitions will promote neighborhood pride in the inner city and urban communities. We will raise the expectation and self-esteem of young competitors and will help them develop the discipline to maintain academics and to create leaders in these neighborhoods. If this company can save one child from a life of drugs, alcohol and abuse and give hope that he/she can do something with his/her life, then I have completed my assignment and this matters to me most. I will be eternally grateful for the opportunity provided by Chase Bank's IDA Program to help me actualize my dream. IDA should stand for "Individual Dreams Achieved!"