A Profile of Mr. Eddie Slade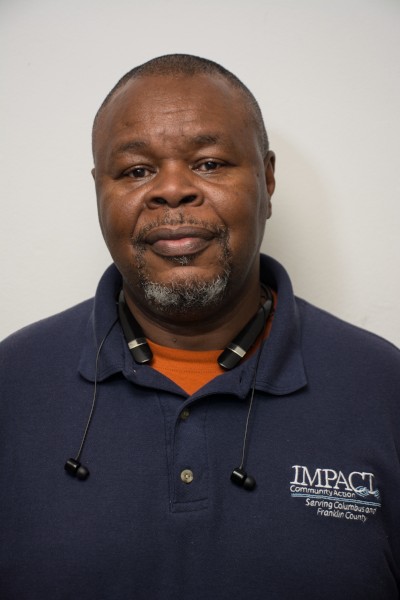 Who is Eddie Slade?
I am the man that my father can be proud of. I am a Restored Citizen! I've been re-instated, re-established and returned to society because of the second chance offering with IMPACT Community Action. February 2015 I became the Custodian / Security assistant with IMPACT and as of February 2016 I also serve part-time as the Re-Entry Project Coordinator. I am a newlywed. My wife and I both are the living products of IMPACT and through IMPACT Advocates we promote the agency mission changed our lives.

Where does your journey begin?
I was born in Youngstown, Ohio and was raised in in Warren. When I was younger I was a happy child but by my sixth birthday I watched the police arrest my father. He went to prison and all I could remember is that the police took him from me. I changed. With a mother working two jobs and idle time on my hands I learned how to be what I thought was a man from running the streets and playing sports. By sixth grade after receiving a paddling something broke inside of me. I busted out every window on that teachers car, flattened tires and threatened him. I decided that no one would ever put their hands on me ever again. What I ended up being was the classic troubled youth with no father figure, a defiant attitude towards authority and the belief that I could do and get away with anything that I was big and bad enough to do.

What happened next?
Boxing became my outlet. I was in the boxing ring training with Ernie Shavers and others who went onto greatness and I was pretty good at channeling my anger through the gloves but I glorified gangsters and the street lifestyle. At age 17 my mother decided to enlist me in the Army with the hopes that the discipline would save me from the streets. I was as Fort Ord, California when I received a call that my mother had been in a car accident and was in a coma. I left to see my mother and all I could think of is that you took my father and now you are going to take my mother too? My mother lived but something within me died. My world crashed and I snapped. I changed again. I never went back to the Army because before I was 18 years old I was in prison serving 5 1/2 years.

How did incarceration affect you?
No one gives you a survival guide for hell. Brute strength and anger were my tools. Whatever I imagined gangster life was, I was living it in prison. Prison cultivated the darkest part of my soul. It validated every negative feeling that I ever had. Surrounded by men in cages we acted like animals utilizing the basic primal instinct of survival of the fittest. When I was finally released, I took prison ethics to the streets. I had 11months of freedom and for 11 months I was a menace to society. My body was free but my mind was still in prison. I was doing prison on the streets. 11 months later, I'm on my way back to prison. This time for 31 years, I got life.

When did you want to change?
Like the scene from Star Wars when Darth Vader tells Luke I am your father. Luke had been fighting his enemy and his enemy had been a part of him the whole time. I'd created a false image of my father based on his absence in my life. Now imprisoned like he had been, I gained a deeper understanding. I was aging and I watched these young men enter the prison with attitudes, no father and a lot of excuses to fail. They arrived at the place where all the dead fathers were. Men whose children would never know them, families would not accept them and society would continue to reject them if they did not change. I tried to become the father that I didn't have. Me and some of the other OG's had to be fathers to these young men and help them stay out of prison. I wrote a program called Choices and began to work with other inmates and Officers in the correctional facility. We made national news and received recognition. I changed again.

How did you hear about IMPACT?
I was released from prison October 10, 2012. I was released to the Bell Center and I heard about IMPACT's Reentry program. Honestly I came for the check. I heard about the stipend and since I had been participating in programming and now become a facilitator myself, I thought that I would breeze through this program, make the money and keep it moving but I was wrong.

How did the program help you?
I never anticipated the deliverance from my past or the revival of my spirit, my mind and my purpose. I'd been through program with prison officers but this was an entirely different setting. I was responsible and I had to be accountable to show up every day, on time and get what I needed. Through deep introspection and hearing the voices of others like me, I was finally able to heal. My lens was cleansed by caring professionals who opened my eyes to a world of possibilities. Now inspired to not just exist but to live again and make this world a better place, I had the inner confidence that I needed to know that I will never go to jail again and that my life matters.

What's next for Eddie Slade?
Advocacy is the responsibility of everyone like me who has been blessed to recover it all. IMPACT Community Action is the only agency that I know that trust its own product and stands beside us with employment opportunities for restored citizens. 2017 I will pursue a degree in chemical dependency. I want to use my secondary education to further my ability to reach others like me. I have to help others understand and address barriers that deter the successful reentry of restored citizens. Housing discrimination, employment, voter rights are just a few. More importantly, I will advocate for Community Action to receive the dollars that they need to fulfill their mission. Most of my story is about my past, but as I live my future will outweigh my past. Now, I truly believe, that it is not how a man falls but what he does when he gets back up.