A Profile of Sandra Carter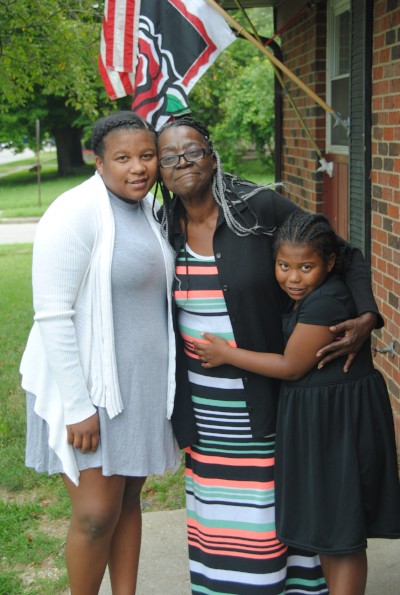 "To see the smile on my granddaughter's face warms my heart.  Nyla Marie Carter is the sunshine of our lives."  --Sandra Carter, HWAP program. 
I am so proud of my granddaughter Nyla.  She is an honor roll student at Berwyn East Academy.  She is healthy and thriving.  We live in a small ranch style home on a corner lot in a good neighborhood and our home is energy efficient.  It is brightly lit, but more importantly we have a "roof" over our heads and I mean that literally. 
I can laugh about it now but when I think about how IMPACT helped us through its Home Weatherization Assistance (HWAP) and AEP program, the tears form quickly in my eyes because I have to admit, I had just about given up. 
I remember Nyla saying, "Granny I can hear the squirrels running around in the attic from my bedroom."  My husband and I spent all of our life savings to have the roof fixed but we fell victim to a scam.  Five thousand dollars might as well be five million when you are on Social Security.  Our life savings was gone, the roof was exposed, my husband's health was in decline and no one could assist us because roof repair is the home owner's responsibility and well beyond minor repair.  
I was facing a terrible decision.  Would I have to give up my grand baby so that she could have a safe place to live?  My faith was shaken and I just didn't believe in people anymore.  
IMPACT's HWAP staff advocated for me with their program partner American Electric Power and AEP provided $6,645 to repair my roof.  Afterwards, HWAP weatherized my home and provided energy efficient appliances and lighting.  IMPACT also provided some other services during the holiday season.  I was grateful and I participated but a small part of me was still in disbelief.  After all that I had been through, I felt like no one cared about us, but somehow God uses something or someone to test your faith and this was it for me.  AEP's generosity and the compassion shown towards my family through IMPACT Community Action, restored my faith in people, in programs and in prayer.  I smile because our little Nyla is safe and can comfortably sleep in her own room. 
*This story is a part of our "Life After IMPACT" Publication