A Profile of Benjamin Graham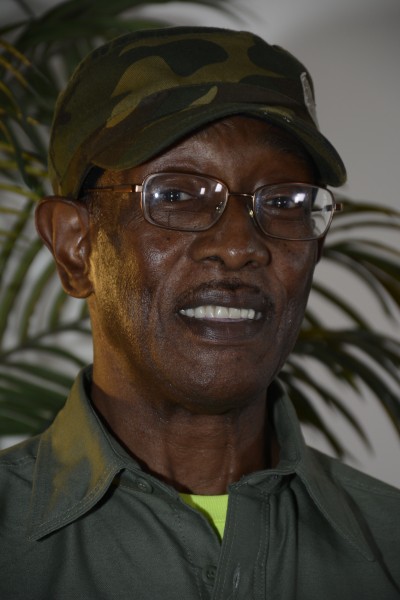 "As a natural tinkerer, there is no better feeling than taking something that is broken and fixing it. Taking something that no one wants and restoring it back to good use." 
--Benjamin Graham, VTAC program.
I know that we live in a culture of where everything is disposable.  It seems that is easier to just get something new rather than to repair the old one, but what about people's lives?  Our communities are filled with broken people living in the shadows of poverty and we can't just throw them away, it is our responsibility to fix them.  I have found, through IMPACT, that their programs repair, redefine and re-purpose people. 
With 30 years' experience in home repair, I really did think that I knew everything.  I'd been a Licensed and Certified Operating Engineer by trade and worked on construction sites all over the state.  Even with my skills, I almost ruined everything in my life but God kept giving me second chances.  Somehow through it all, I never stopped fixing things.  The Vocational Training and Certification program (VTAC) not only validated me again, but it challenged me to take my small business, AGAPE Homes Remodeling and Home Improvement, to the next level.  This is where I found self-sufficiency but I also discovered the true beauty of God's design on fixing things. 
You see, in ancient Japan, when a ceramic bowl broke, they fixed it.  Legend has it that a Japanese shogun was unimpressed with the repair done on a Chinese bowl he had sent to be fixed, so he hired some Japanese craftsmen to find a more beautiful method of mending ceramics.  They developed a technique called kintsugi, in which the broken pottery is literally mended with gold dust.  Rather than trying to hide the flaws in the broken ceramics, they would highlight them in gold.  The ceramics mended with kintsugi actually became more valuable than they had been before they were broken.
This "kintsugi" is exactly what IMPACT Community Action performed in my life. IMPACT is a place where one does not have to hide their cracks or flaws.  VTAC is designed to fill those "cracks" with training, skill development, mentorship and tools.  Once you've completed the program you can pursue a career in the skilled trades and potentially determine that you will never have to live in poverty again. 
Since I've completed VTAC, I've become inspired and I try to encourage young men to take advantage of the opportunities that are now being provided to them through IMPACT Community Action.  You see, I tell these young men they have to come out of hiding and out of poverty to see that life is not over and that some of the damage can be repaired.  I believe that learning how to build and repair helps to shape one's character and look at life differently.  If these young people can figure out how to repair a broken furnace, HVAC system, or a home, then they can figure out how to repair their lives and end the cycle poverty.  To take something that is broken, repair it, redefine it and re-purpose it, all the while increasing its value, this has to be God's design for the people. 
 
*This story is a part of our "Life After IMPACT" Publication