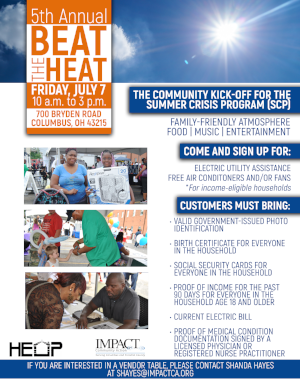 In an effort to make it easier for income-eligible households to receive critical utility service assistance during the summer months, IMPACT Community Action and its Emergency Assistance Department will host the 5th Annual "Beat the Heat" Summer Crisis Program (SCP) Kickoff on Friday, July 7, from 10 a.m. to 3 p.m. on the rear parking lot at IMPACT's headquarters at 700 Bryden Road in Columbus.
Through the SCP, IMPACT and the Ohio Development Services Agency are providing one-time benefit toward an electric utility bill if service is in threat of disconnection, is terminated, or if the service is being transferred. Households may utilize the SCP to obtain an air conditioner and/or fan which is critical to creating an oasis in the home to beat the heat!
The "Beat the Heat" kickoff is a family-friendly event that features on–site outreach and resource information from several community partner agencies and human service organizations united to provide resources which inform, assist, and engage the community. The event also features children's activities, and access to the SCP.
"In the spirit of collective impact, we have recruited several partner agencies, human services providers and local businesses to help us kick-off the Summer Crisis Program in a big way," said Latisha Chastang, Director of Emergency Assistance at IMPACT. "As we begin the summer cooling season, are extremely grateful to our partner organizations that have pledged their support, including American Red Cross, Center for Healthy Families, Columbus Fire Department, COWIC, Homeport, Radio One, Volunteers of America, YWCA, OSU Extension, Primary One, Ohio Juvenile Justice Coalition, People's Justice Project, Moms2B, CPO, AARP, COWIC, Ohio Hispanic Coalition, COAAA, Community for new Directions, ADAMH and others. We are united by the common goal of providing valuable information and direct access to programs and services through on-site application processing, information booths, and linkages to other critical resources."