REACH Program
Re-Engage | Empower | Affirm | Challenge | Honor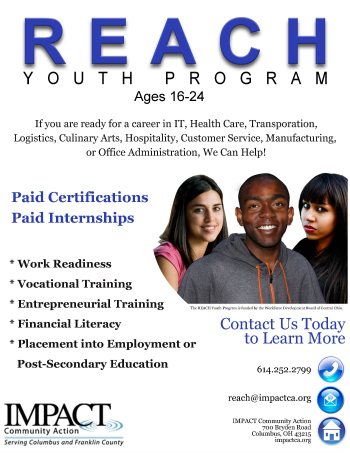 ---
The REACH Program is a new initiative designed for youth and young adults, ages 16 to 24, who currently are not enrolled in school and are not employed.  
The program consists of a 10-Week Bootcamp on Mondays through Thursdays, from 9 a.m. to noon, which will offer program participants paid work experiences, career-specific certifications, work readiness training, computer literacy, financial literacy, life skills and employability coaching.
The Training Fields include:
Allied Healthcare
Information Technology
Hospitality
Culinary Arts
Entrepreneurship
The Career Tracks Include:
Entering Employment
Post-Secondary Education
Vocational Training
Military Enlistment
---
Registration is OPEN NOW!  

To apply, visit the REACH Program office at 700 Bryden Road from 9:00 a.m. to 4:00 p.m. on Mondays through Fridays.  
No appointment is necessary.  
For more information, contact the REACH Program staff at reach@impactca.org 
or call 614.453.1659.
Use the link below to share your contact information with us.
We will follow up with you shortly to discuss your intrest in the REACH program!
---
The REACH Program is funded by Workforce Development Board of Central Ohio.