Central Case Management
Central Case Management (formerly Support of Self-Sufficiency Program) is the gateway to all IMPACT programs and services by assisting low-income families and individuals identify, address and overcome multiple barriers to self-sufficiency through tools and techniques in the five-phase Family Development Model developed for Community Action.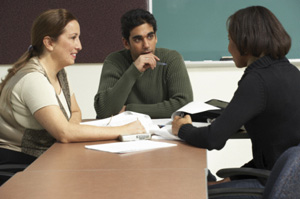 ---
Five Phase Family Development Model
JOINING families and individuals to build internal and external relationships
ASSESSING family and individual strengths, challenges and resources
PLANNING short-term and long-term goals for families and individuals
SUPPORTING families and individuals throughout the change process
LINKING families and individuals to internal and/or external resources
---
Ingram-White Castle Foundation Invests In IMPACT
The Ingram-White Castle Foundation awarded a $10,000 grant to IMPACT to boost real opportunities for self-sufficiency. This grant assists families and individuals in need who establish Individual Goal Plans (IGP).
The IGP serves as a road map to identifying multiple barriers and specific strategies to address and overcome them through case management, financial and material assistance, and linkage to other programs and services.
For more information on the Ingram-White Castle Foundation Grant and case management, please contact Carol Winchester at 614.453.1725 or cwinchester@impactca.org.