Workforce Development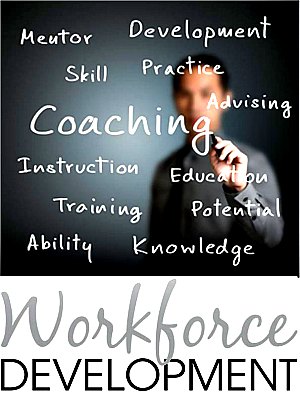 Changing Lives ... Stimulating the Economy
Workforce Development/Employment Plus Program provides cutting-edge training to help dislocated and disadvantaged workers secure and maintain employment through an accelerated five-week curriculum that includes computer literacy, résumé writing, mock interviewing, academic course work and financial literacy. Program graduates receive one-on-one job coaching to hone their interpersonal and technical skills to increase their marketability to potential employers.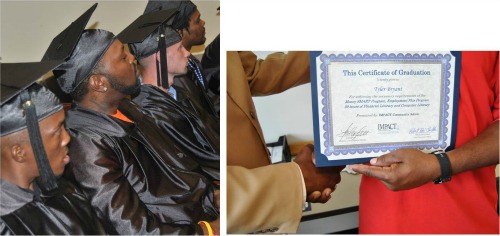 ---
If At First You Don't Succeed ... Tie Tie Again!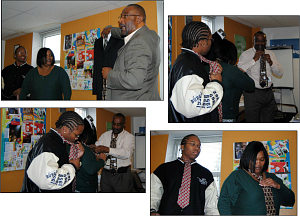 It's Knot Hard To Learn ...
IMPACT's Workforce Development/Employment Plus Class receives a hands-on demonstration on how to tie a necktie by Mr. Terry D. Byrd, the Executive Director of Nehemiah House of Refuge. "I never learned to do this," said one gentleman. A young mother commented, "I want (to learn) to teach my son." Nehemiah House of Refuge is a non-profit agency that serves disadvantaged, homeless, veteran and ex-offender males.
Through collaboration with other non-profit organizations and faith-based institutions, Nehemiah House of Refuge helps adult men develop the tools and skills needed to re-enter the workforce. The collaboration with Nehemiah House of Refuge and another clothing provider for disadvantaged workers, Dress For Success, helps IMPACT provide access to resources that help remove barriers to employment, including the absence of professional attire and uncertainty in one's personal appearance.
---
The JPMorgan Chase Foundation awarded IMPACT Community Action a $100,000 grant recently to support its Workforce Development program, "Employment Plus."  The foundation recognizes the importance of investing in programs that will help individuals and families achieve and maintain economic self-sufficiency through well-paying, higher skilled jobs. Often the chronically unemployed or underemployed lack the necessary skills and training required to secure better paying jobs or positions that offer opportunities for advancement.
Through this grant, IMPACT will recruit, enroll and train program-eligible candidates for various employment opportunities. Success factors include an 80% graduation rate from the five-week program and 60% for persons that find and maintain full-time employment for at least 90 days.