Summer Crisis Program
2017 Summer Crisis Program (SCP) Runs July 3rd through August 31st
The HEAP Summer Crisis Program (SCP) provides electric utility assistance and/or free air conditioners and/or fans to income-eligible households* throughout Columbus and Franklin County. The SCP runs from Monday, July 3, 2017 through Thursday, August 31, 2017.

The SCP program provides a one-time payment for electric utility service and also assists with PIPP PLUS. Summer Crisis Program appointments may be scheduled by calling 866.747.1038.

For additional information about other HEAP services, including PIPP Plus, please call 614.252.2799.
---
*HEAP/SCP helps low-income families at or below 175% of the 2016-2017 Federal Poverty Guidelines: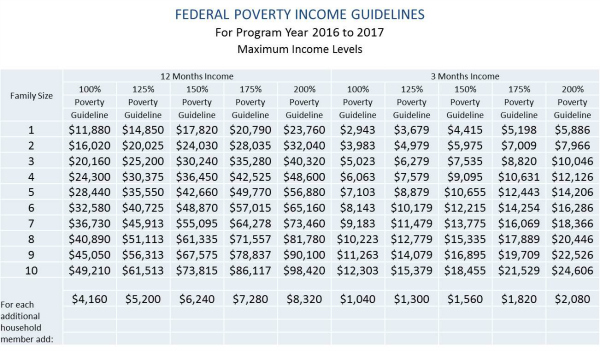 To apply for service, customers must bring the following information:
Valid, government-issued photo identification (i.e., a driver's license)
Social Security cards (or print out) for everyone in the household
Proof of income for the past 90 days for everyone in the household age 18 and older
Current electric bills
A copy of the lease, if the service is currently disconnected
Physician's statement for households without a resident that is 60 years old or older
---
IMPACT Kicks off SCP With 5th Annual "Beat The Heat" Event!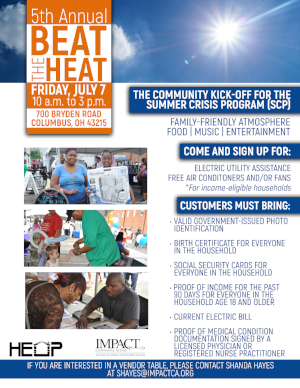 For the fifth consecutive year, IMPACT will kick off the HEAP Summer Crisis Program (SCP) by hosting "Beat the Heat," a free, family-friendly event on Friday, July 7th at its headquarters at 700 Bryden Road in Columbus, Ohio 43215 (rear parking lot).

In addition to the traditional SCP application processing for families and individuals in need, IMPACT's "Beat The Heat" event featured food, music, and entertainment.
Special thanks to the past and present partner organizations, sponsors and vendors whose collective impact helped to make this event another huge success:
AARP | ADAMH | American Red Cross
Big Brothers Big Sisters of Central Ohio
Center for Healthy Families | Columbus Fire Department Engine House No. 3
Columbus Public Health Department | Columbus Police Department
Community Stakeholders | COAAA | COWIC | CPO
Community for New Directions | DJ Hands On | Diverse Home Care
Franklin County Safe Communities | Homeport | Homeless Families Foundation
Kroger | MidOhio Food Bank | Moms2B | Ohio HispanicCoalition
Ohio Juvenile Justice Coalition | The Ohio State University/OSU Extension
People's Justic Project | Power 107.5/Radio One | PrimaryOne Health  
The Salvation Army | Volunteers of America | Veteran's Affairs 
Woodforest National Bank | YWCA
---
---
Stay Cool This Summer With These Helpful Tips!!