Ripple of Hope Awards History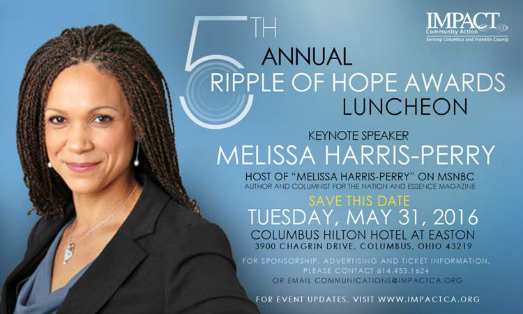 The Ripple of Hope Award was established by IMPACT Community Action in 2012 to acknowledge the exemplary achievements of individuals and/or organizations representing the public, private and community sectors.
This award symbolizes the emotional state that promotes positivity, motivation and dynamic outcomes. The award is presented in each of the following categories: Community, Private/Non-Profit and Public sectors.
These categories mirror IMPACT Community Action's unique tri-partite Board of Directors who embody and promote anti-poverty leadership, action and mobilization of resources to reduce poverty in Franklin County, and position IMPACT as a model Community Action Agency.
Eligibility Criteria
There is no age limit, length of experience or educational qualifications for the nominees. Their work may confront societal or civic issues, address health or environmental concerns or promote wellness, sobriety or humanities.
Candidate requirements:
PUBLIC (elected official, public employee or entity) - Encourages the awareness of poverty needs within the community and directs action by local governments to foster close coordination and partnerships between public agencies and eligible parties.
PRIVATE/NON-PROFIT - Demonstrated leadership through fiscal prudence, innovative programs, charitable giving, partnerships or creative opportunities for low-income families and individuals.
COMMUNITY – Identified a critical need and provides services or resources to support the resiliency and self–sufficiency of low-income families and individuals.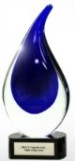 ---
SAVE THE DATE!
The 5th Annual Ripple of Hope Awards Luncheon is Tuesday, May 31st at the Columbus Hilton Hotel at Easton, 3900 Chagrin Drive, Columbus, OH, 43219.
Melissa Harris-Perry, host of "Melissa Harris-Perry" on MSNBC, author, and columnist for The Nation and Essence Magazines, is the keynote speaker.
Tickets are on sale now.  Reserve your seat(s) today!
---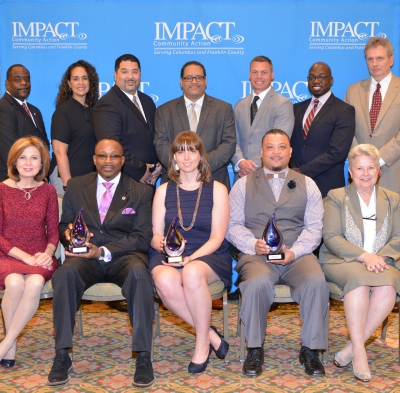 IMPACT Salutes the 2015 Ripple of Hope Award Winners!
Mr. Al Edmondson is the president of the historic Mount Vernon District Improvement Association (MVDIA), founder and CEO of "Making a Difference", owner of "Cut Above the Rest" barber shop, and a veteran of the United States Army. As a longtime resident of the City of Columbus and a proud graduate of East High School, Mr. Edmondson uses his dedication to the Near East side to encourage revitalization initiatives.  Mr. Edmondson is the 2015 Ripple of Hope Award Winner for the Community Sector.
The Honorable Paul M. Herbert is a Franklin County Municipal Court Judge and a leader in Ohio who has changed the conversation nationwide about sex trafficking.  Judge Herbert proposed a specialized program focusing on human trafficking victims who have been charged with the misdemeanor offense of solicitation.  CATCH (Changing Actions To Change Habits) Court was started in September 2009.  The program has been a resounding success, including reducing recidivism, reducing costs to the county, and helping women, who are often victims of crime themselves, escape a dangerous and predatory lifestyle.  Judge Herbert is the 2015 Ripple of Hope Award Winner for the Public Sector.
The Reverend Frederick V. LaMarr is the pastor of Family Missionary Baptist Church, and a humble servant leader and community activist. A life–long resident of the City of Columbus, Pastor LaMarr is the CEO of Reaching Higher Heights Care Center 4 Life and co-founder of Ministries 4 Movement.  Pastor LaMarr devotes much of his ministry to community outreach and activism, focusing on gang activity and changing the paradigms of the inner city.  Pastor LaMarr is the 2015 Ripple of Hope Award Winner for the Private/Non-Profit Sector.
---
Nomination Procedure
Persons may nominate a candidate by submitting each of the following:
An official Nomination Form
A narrative of no more one (1) page that indicates the nominee's degree of leadership; extent and scope of service to the community; and advocacy efforts to change people's lives
Completed nomination forms and narratives must be received by Friday, March 11, 2016 at 5:00 p.m.
---
We Are Grateful To Our Major Sponsors in 2015!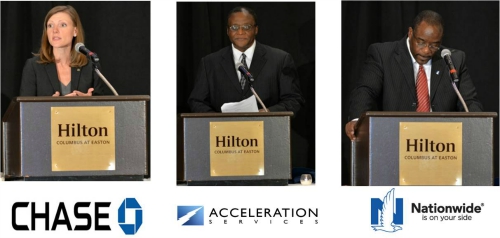 ---
Selection Process
Following the recommendation of the 2016 Ripple of Hope Awards Nominating Committee, the Chief Executive Officer of IMPACT Community Action will notify each recipient on or before Monday, March 21, 2016.

The award recipients will be announced to the public on Tuesday, March 29, 2016.
The awards will be presented on Tuesday, May 31, 2016 at the 4th Annual Ripple of Hope Awards Luncheon at The Columbus Hilton at Easton.
IMPACT CEO Bo Chilton Welcomes Dr. Michael Eric Dyson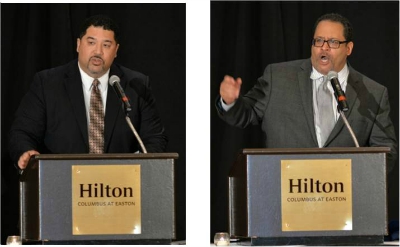 ---
2014 Ripple of Hope Award Winners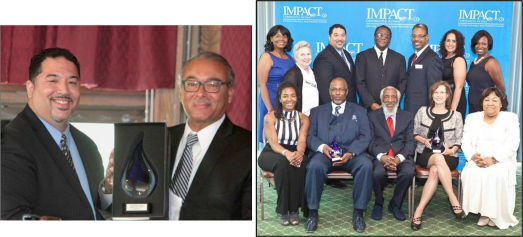 Mayor Michael B. Coleman -- Public Sector Award Recipient.
Mayor Coleman, the longest-serving Mayor in Columbus' rich history, took office in 2000 with a commitment to make the City of Columbus the best place to live, work and raise a family. The rebirth and resurgence of Community Action in Columbus is due in large part to the efforts of Mayor Coleman.
Homeport -- Non-Profit Sector Award recipient.
Homeport is a private non-profit organization whose mission it is to create and preserve healthy, stable and affordable communities, one neighborhood, one person at a time.

Homeport is represented by:
Ms. Maude Hill, Vice President of Community and Government Relations and
Ms. Amy D. Klaben, President/CEO
Robert L. Patterson -- Community Sector Award recipient.
Mr. Patterson is the President of the Marion-Franklin Area Civic Association and one of the original appointees by Mayor Michael B. Coleman to the Coalition for a Non-Violent Columbus, a grassroots organization comprised of community leaders whose mission is to address violence in our neighborhoods, schools and homes.
---

---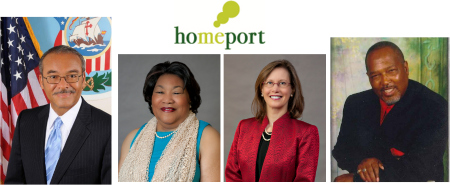 ---
2013 Ripple of Hope Awards Luncheon Video
---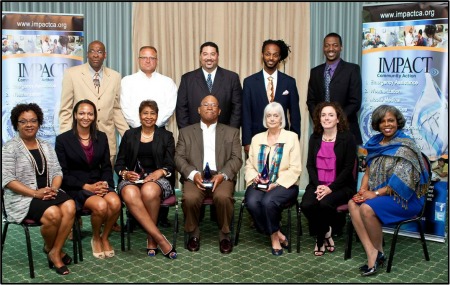 2013 Ripple of Hope Award Winners
Congratulations to the 2013 Ripple of Hope Awards Winners!
(Seated from third left)
Public Sector: Mrs. Suzanne Coleman-Tolbert, COWIC
Community Sector: Mr. Lloyd "Tom" Dillard, Tom Dilliard & Associates
Private Sector: Ingram-White Castle Foundation (represented by Mrs. Maryann I. Kelley, assistant secretary of Ingram-White Castle Foundation and granddaughter of Ingram-White Castle Foundation founder, Edgar W. (Billy) Ingram; and Mrs. Erin Shannon, Corporate Relations Manager at White Castle System and great granddaughter of Billy Ingram
The awards were presented during the 2nd Annual Ripple of Hope Awards Luncheon on Thursday, May 30th.
---
2012 Ripple of Hope Awards Luncheon Video
---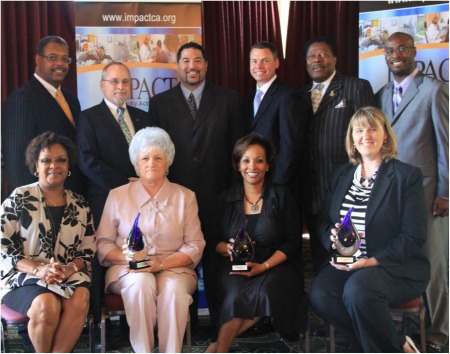 2012 Ripple of Hope Awards Luncheon
2012 Ripple of Hope Award Winners (seated from left):
Community: Pastor Leanne Parden, Refuge of Hope Full Gospel Church
Public: Mrs. Carla Williams-Scott, Franklin County Job and Family Services
Private: AEP Ohio (represented by Ms. Michele Jeunelot)