State / Local Poverty Statistics
Wealth Inequality in America: Perception vs. Reality
---
More than 1.8 million people in Ohio live in poverty.
One in six Ohioans (nearly 2 million people) lives below the federal poverty level.
One in 12 Ohioans in poverty has a bachelor's degree or higher.
Nearly one out of every four Ohio children lives in poverty.
Almost one in every three Ohio children under age six lives in poverty.
These startling statistics are documented in the "State of Poverty 2012: Dispelling Myths & Preconceived Notions" report compiled by Community Research Partners and commissioned by the Ohio Association of Community Action Agencies.
Read the full report:
http://www.oacaa.org/poverty-facts/poverty-in-ohio/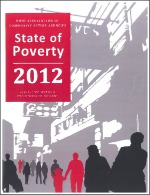 State of Poverty 2012
---
According to the U. S. Census 2011 American Community Survey, 34.3 % of the children in the City of Columbus are living below poverty and 15% of our civilian labor force is working and still lives below poverty level.
Community Research Partners issued a study, "Benchmarking Central Ohio 2011," that compared the eight-county Columbus Metropolitan Area to 16 other metropolitan areas, including Cleveland, Cincinnati, Chicago and Indianapolis and found that Columbus ranked last (16th) for persons below the poverty level, and near the bottom (13th) in persons receiving public assistance. Columbus also ranked last (16th) with the highest percentage of children under 18 living in families where no parent works.
Read the full report:
http://www.columbuspartnership.com/wp-content/uploads/2012/01/Benchmarking-Community-Report-2011.pdf
---